First, I have noot been on many mounatins in Lyngen ... actually only a few (winter and in the summer trips). And I have several mails about ski information for the Lyngen area. Therefor I will try to make this page to helps skiers and walkers with information.
For information about places to stay in Lyngen, go to end of page ot click here>
All mountains described below is in snow avalanche areas!
Standard eqipment is radio transmitter/reciever, spade and søkestang.
Avalanche warnings, Norway> from yr.no main page you find "Snøskredvarsel" a bit down on left side menu.
It's two books that will help mountain skiers in Lyngen with a lot of information. Even if they are written in Norwegian, they could help you with maps and pictures. Maybe try to they learn a few Norwegian words and also ask help from local people.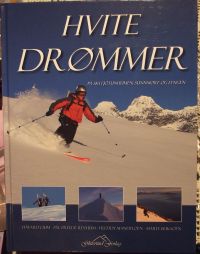 "HVITE DRØMMER" From autum 2006. Glitretind Forlag. A nice book that describes maountain skiing in three areas in Norway. Jotunheimen, Sunmørsalpane og Lyngen. The trips was done in wintwe/spring 2006. Nice descriptions, maps and awalynge evaluations.. Many nice pictures.. Forfattere er Håvard Lium, Pål Preede Revheim, Freddy Mandfloen and Marte Bliksøen.

ISBN 10: 978-82-997013-2-7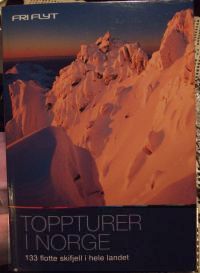 "TOPPTURER I NORGE". Bok from"FRI FLYT" autum 2006. Nice book that describe ski mountain trips fra Finmar, Troms, Norland and Nord-Vest landet. Maps and pictures. Many trips in Lyngen and Troms.
Writers are Trygve Synde Kolderup, Arne Litlere, Andreas Waage Nilsen og Erlend Sande.
See more at exponert.no eller dnt.ung-no

ISBN: 91-631-6221-0
Over - thise maps (M-1 to M-8) make views to the most popular mountain skiing areas in Lyngen and Kåfjord.
Some distances. To drive from Tromsø to Lyngseidet takes aproximatly 2 houers. To drive from Tromsø to Olderdalen takes aproximatly 3 houers. You can cross Ullsfjorden by ferry and reach Nor-Lenangen (and Lyngseidet) in 2 houers.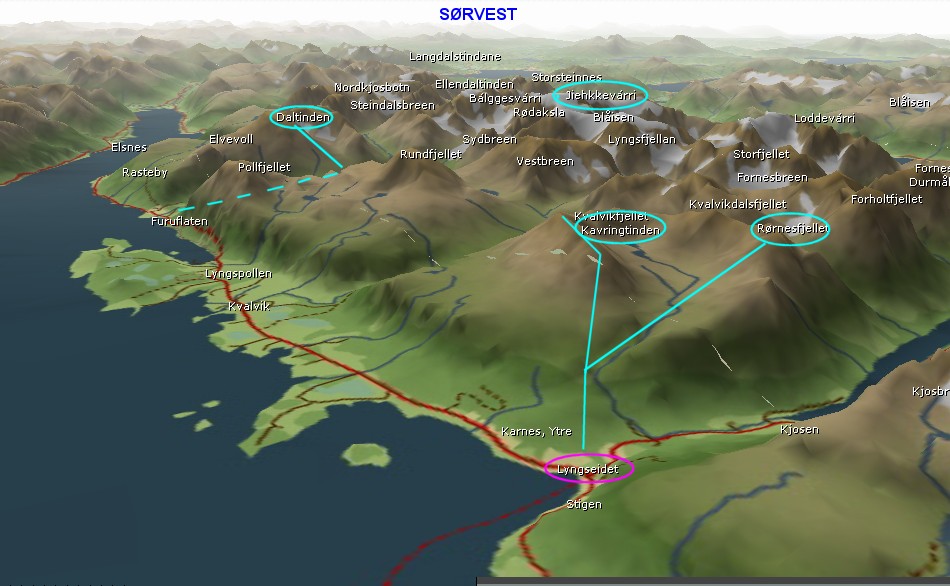 Over - Lyngseidet (M-1 and M-2) is a village in the middle of the Lyngen alps. Ther are a lot of good mounatain skiing around Lyngseidet. The drive from Tromsø aerport to Lyngseidet is about 2 houers. It is also possible to cross Ulsfjorden by ferry. The time to Lyngseidet is still near 2 houers. This ferry is also the shortest way to Nord Lenganen (M-4). Over you see Lyngseidet and nearby mountains to sout, Kavringtinden and Rørnesfjellet. Further inn the fjord is Furuflaten and Lyngsdalen (my pictures from a october trip in Lyngsdalen here>). In Lyngsdalen there is a nice ski mountain called Daltind. It's a cabin that is posible to rent, one houer walk up Lyngsdalen. Many people stay the night ins this cabin and walk up to Dalstind the next morning.
My pictures and trip report from Kavringtinden 3 April 2009 is here>

Near Lyngseidet thers a cabin called "Skihytta" (45 minutes walk from Lyngseidet).
This cabin is normaly open an cab be used for stops (Se my pictures from Kavringtinden, over).
Further up in the waley between Kavringtinden avd Rørnesfjellet it's another cabin, used for hunters and others.
This cabin should also be open.
Ext. links to Kavringtinden: external link-1 external link-2
Ext. links to Rørnestinden: picture[ext.link]

Another beautiful waley between Lyngseidet and Oteren is Steindalen with it's glacier. This is not a typical winter trip, but I still ad my pictures from a summer trip up to the glacier>.
Over - ski montains nort of Lyngseidet. Store Kjostinden an Istinden is accesable from Kjosen (2-3kilometers west of Lyngseidet). Fastdalstinden[ext. link] from Rottenvika (2-3kilometers north of Lyngseidet). Further north is Koppangen with the Koppangen glazier behind. From Koppangen glazier you cabn reach the Store Lenagngstinden.
Over - Kåfjordalpene is located on the northeast side of Lyngenfjorden. Two nice ski mountains is accesable from Olderdalen, Nordmanviktinden and Gilllavarri[my pictures from winter trip]. Further nort from Olderdalen is Djupvik and two excellent ski mountains, Sorombegaisa and Storhaugen. My ski-trip report from Sorbmegaisa 24 April 2010 is here>
Uløytinden at Uløya is another nice ski mountain on a nearby island (ferry). Djupvik has a new, nice "ski hotell" called "Lyngen Lodge[ext.link]".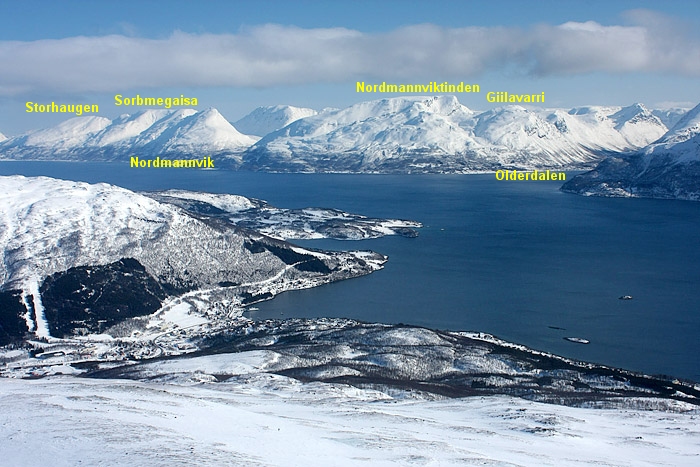 Over - Kåfjordalpene seen from Lyngseidet.
Over - on nortwest of Lyngen, Storgalten (my pictures from a summer trip to Storgalten is here>). It is a popular ski mountain. For hire a "Rorbu" in Nord-Lengangsen, see here>
In August 2009 I did a walk from Nord-Lenangen to Lille Peppartinden. Read about the walk here>
Another possible place to stay near Storgalen is "Svensby Tursenter BA" phone 77 7 12225. This place is located between Nord-Lenagen and Lyngseidet.
youtube.com -> video Storgalten & Kavringtinden>
One mounatin between the map over and under is "Stetinden" near Sør-Lenangen.
I did a trip up to "Stentinden", 27 mars 2010. Se trip report and pictures here>
Over - the middle, west side has meny impressiv (but not the easyest) mountains. Near Jægervatn is Jægervasstindan. Further sout Isskardtindan. This area has has two cabins. Near Jægervatn, Jægervasshytta, a DNT cabin. Near Isskardtindan, Trollhytt (open).
Over - in south, Ullsfjorden have an "arm" caled Sørfjorden. The higest mountain in Tromsø fylke, Jiehkkevarri (1834 m), (pictures from my trip to Jiehkkevarri is here>). An excellent skitrip is up to Holmbukttinden (1666 m). The trip can be extended to Jiehkkevarri. This is the easyest way to access Jiehkkevarri, even if it can be don from Blåisen, Sydbreen and Lyngsdalen. The drive from Tromsø to Holmukta takes abour 1,2 houers. To sets of my pictures from Holbukttinden is here> Set-1, Set-2
Over - behind Lakselvbukt is Lakselvtindan (highest, 1616 m). It is posible to rent a house or cabin in Lakselvbukt. Popular for skiers. The drive from Tromsø to Lakselvbukt is about 1 hour.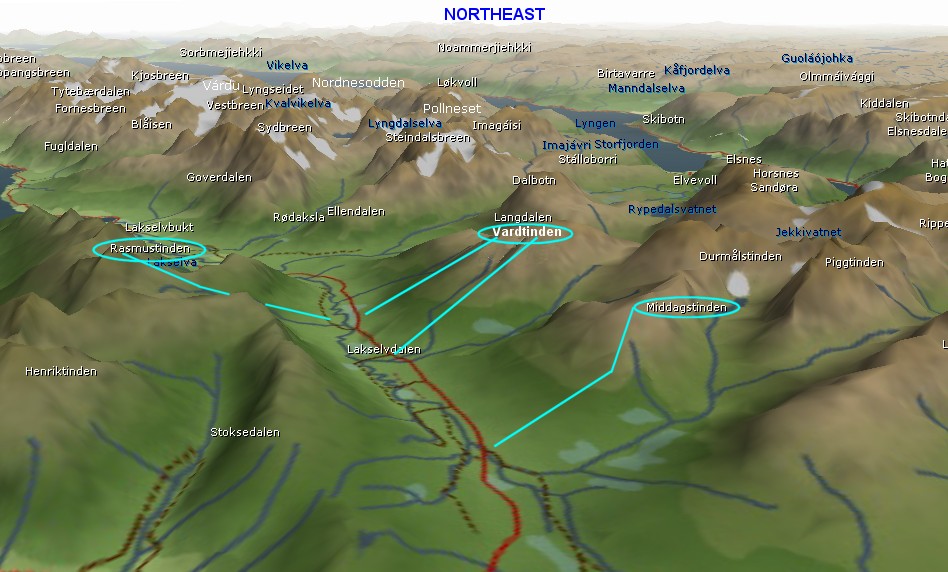 Over - south of Lakselvbukt is Lakselvdalen. It's several nice ski mountains in the valey. Rasmustinden[read about my summer trip], Vardetinden and Middagstinden[read about my summer trip] is some of them.
Transport:
Hotells, Rorbu (sea camping), camping houses:
You can rent hollyday houses at Havnnes Handelssted on Uløya, see www.gjaever.net >
"Rorbu" (several houses) in Havnnes Handelssted, see www.gjaever.net >
"Welcome Inn Hotel Lyngskroa AS" , Oteren, phone 47 777 15000
www.lyngenalp.no>
Other interesting pages related to Lyngen:
www.lyngenalp.no>
Picures from Lyngen:
Pictures of many mounatins in Lyngen, Kvaløya, Balsfjord. Webpage made of Geir Jensen>
Nature in Nord-Troms (and Lyngen, Kåfjord). Webpage made of Jan R Olsen. A lot of nice pictures and route descriptions>